Award Plaques Emerald Green
Recognition plaques or awards in clear and green crystal, high quality, three sizes 23cm, 25.5cm and 28cm, large engraving space and presentation box, its shape is perfect for 1st 2nd and 3rd gift trophies or awards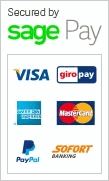 Award Plaques Emerald Green
Within our range of crystal high quality award plaques we have one style which incorporates green within the design.
This is a geometric, contemporary, clear and emerald optical crystal in a pointed monolith shape. The award is perfect to recognise the pinnacle of achievement. In flawless optical crystal with an emerald green band at the base it reflects and refracts light and colour to stunning effect. It comes in three sizes which are 23cm, 25.5cm and 28cm and its shape makes it ideal to recognise 1st, 2nd and 3rd place achievement.
With a generous space to engrave a crest, company logo or message, it comes in its own foam lined presentation box.
Just one of the high quality awards that Stablecroft can supply for your meetings and events.