Award Plaques Nik Mellor Designer Collection
Award Plaques Nik Mellor Designer Collection of clear and cobalt blue award plaques - ideal for your special events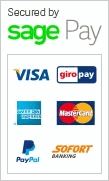 Award Plaques Nik Mellor Designer Collection
Inspired by the vibrant colours encountered in his travels whether crystal clear sky or the deep blue waters of the world's oceans, we present here the Nik Meller collection of crystal plaques and awards.
This product range makes the ideal business award or sports trophy, with their combination of clear glass and cobalt blue optical crystal.
There is generous space on the flat surface of the awards to engrave a company logo, a crest and any messages, dates or wording.
The size of the crystal ranges from 18cm up to 29cm, and there are many divergent shapes to suit most tastes.
The crystal wards are supplied in an attractive presentation box.
If you want a special award to commemorate a big anniversary, or a contract won, outstanding staff member, look no further.