Metal Badge Tray
Metal badge tray, powder coated in silver, for your conference name badge. Each tray holds 60 name badges and weighs 0.3kg.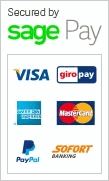 Metal Badge Tray
Stablecroft's metal badge tray is manufactured in aluminium, which makes it very lightweight at only 0.3kg, and is then powder coated in silver. It looks very professional and is very durable, and can be used for events time and time again.
Each tray holds 60 conference name badges and it can accommodate badges of all sizes and shapes. The bottom of the badge is gripped by the tapering slots in the tray, so that the conference name badge is held securely, even if you turn the tray upside down and shake it.
Occasionally we are faced with a badge which does not fit as the bottom edge of the badge is too wide for the slot - however we have made custom trays for this eventuality.
The metal badge trays can be placed on your registration desk, ready to use - if you have lots of delegates, our A-Z plastic tabs will also help you find badges quickly and easily.
The metal badge trays can be transported in the Badge Carrier, a smart lightweight holdall which holds three of the trays.