Black Lockable Acrylic Ballot Box
Black Lockable Acrylic Ballot Box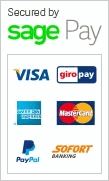 Black Lockable Acrylic Ballot Box
This black lockable acrylic ballot box is very strong and sturdy, ideal as a counter top, or desk top box.
Its overall dimensions are:
•240mm high
•290mm wide
•220mm deep
•slot size 110mm by 6mm
It is also available in white but the black version is particularly smart and lends itself to all kinds of events and locations.
It is made in 3mm acrylic and is supplied ready to use, no assembly required.
If it is important to you that the data you are collecting is not viewable, then this box is perfect, as its contents are hidden from view.
It is also available with a back mounted card headers you can add any information you need such as instructions, special offer, request samples or brochure.