Clear Acrylic Display Cube
Clear Acrylic Display Cube, 4 sizes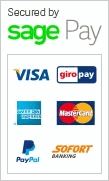 Clear Acrylic Display Cube
If you need to display items at venues, at home, at events, keep your items safe and in good condition with these acrylic display cubes. The cubes are available in four sizes. Choose from 100mm square up to 400mm square.
The contents of the acrylic cube are easy to see and access and customers can better assess the item without handling it. The contents are also protected from direct sunlight as the 3mm acrylic protects items from uva rays. The tall sides also make is more difficult for items to be accidentally dislodged or knocked over.
The stylish storage cubes offer versatility and organisation for all sorts of items. They are stable while empty or full and can also be used upside down to create a display case.