White acrylic suggestion box A5 or A4 header and leaflet pocket
White acrylic suggestion box with A5 or A5 header, complete with document pocket, can be used free standing or wall mounted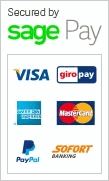 White acrylic suggestion box with A5 or A4 header
A very versatile suggestion box with A5/A4 header which can be utilised either as a desk top unit or can be wall mounted - whichever you prefer.
The header will hold a poster up to either A5 or A4 in size, and the side pocket for documents can handle either an A6 leaflet or 1/3 A4 brochure.
Access to the suggestion box contents is via the base place, and it is 15cm high by 22cm wide and 15mm deep. It has a slot size of 155mm by 14mm wide.
With pre drilled holes at the back of the header, it is easy to hang this suggestion box on the wall, if you prefer this to a counter top model.
Whatever you need to use it for - sales leads, surveys, competitions, it offers great flexibility.