Pin & Clip Name Badges for Conference Delegates
Pin & Clip Name Badge with non rotating clip, manufactured in durable, rigid pvc, matching badge paper inserts available. Boxed in 50s.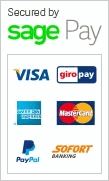 Pin & Clip Name Badges (Box of 50)
Pin and clip name badge, 90x58mm, with a non rotating pin and clip fitted welded to the rear of the badge. Our best selling badge, boxed in 50s, in stock on a next day service if ordered by 1300.
The pin and clip name badge allows you to either pin the badge on suits, or clip on more fragile fabrics.
Stablecroft Conference products also supply this badge in a larger size, 97x74mm, as a bespoke item. Paper inserts, 10 per page on A4 perforated sheets, can also be purchased to enable in-house printing of delegate names. The paper badge inserts are available in white and many vibrant colours - this will enable you to easily identify different classes of delegates, or exhibitors, or staff.
Many of our customers twin these badges with colourful conference ribbons, which are made to order and can also aid identification of key individuals at busy conferences and events.