Pin & Clip Delegate Badge 97 x 74 mm
Stablecroft's 97x74mm delegate badge is larger than standard credit card sized delegate badges, ideal if you need a larger potential print area Made to order, minimum order 200 units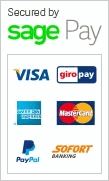 Delegate Badge 97 x 74 mm
Stablecroft Conference Products' 97x74mm delegate badge is larger than most delegate badges. It has a non rotating pin and clip welded to the rear of the badge and can be supplied with badge paper, which has 8 badge pockets per A4 perforated page. The badge paper inserts are available in packs of 400 delegate badges and you can choose between white and a range of colours - ideal to identify different classes of delegates, visitors or speakers.
The 97x74mm delegate badge is ideal if you have to fit on multiple logos, long names, even longer job titles! The extra space can be invaluable and allows you to retain a large font size.
The rigid construction of the badge makes it durable, for multiple usage - should your delegates remember to return the badge at the close of your conference.....we do supply suggestion boxes for this purpose!
The 97x74mm delegate badge can also be transported to your conferences, meetings, seminars and events in our custom metal or cardboard badge trays, or in our custom attache case, The Badge Buggy.
Stablecroft Conference Products often supply this badge with matching ribbons which adhere to the badge - these are also made to order, all you need to do is tell us the colour of the ribbon, text you need to print and quantity - this makes it easier to identify key visitors at busy meetings and events.
The 97x74mm delegate badge is a non stock item, made to order for a number of our customers - lead times are usually 1-3 weeks. Minimum orders are 200 upwards.
Should you have an on-going requirement, please contact us to discuss consignment stock.