Eclipse Designer Range Conference Folder
Eclipse Designer Range Conference Folder, with 2 colour cover, range of folder interiors and colour choices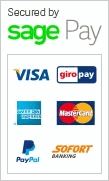 Eclipse Designer Range Conference Folder
The Eclipse Designer folder has a textured design on the rear cover and spine, and one the front cover there is a coloured stripe, which is available in a 15 colour palette, with the front covers main colour choice of either:
Black
Navy Blue
Pewter
The Eclipse folder has the following dimensions:
Dimensions: 267 x 213 x 45
Branding Area Dimensions: 120 x 90
It is available in A4 and A5 sizes, with many folder interiors to choose from, including:
With fitted calculator
With fitted calculator and ring binder
With ring binder
With ring binder and 2 x CD slots
There are many branding options to add even more options to this designer folder.
Just check out the pictures and see which one suits your requirements. We also have a wide range of pens if you require these for your project.