Leather Conference A4 Pad Holders - Coloured
Leather Conference A4 Pad Holders - Coloured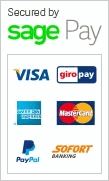 Leather Conference A4 Pad Holders - Coloured
Leather Conference A4 Pad Holders, with coloured folder covers in 10 shades, this is one of Stablecroft's prestige folders.
It is supplied in high quality soft nappa leather and has a zipped compartment, as well as another expandable pocket which can accommodate thicker items, including IPads or slimmer laptops.
The leather A4 pad holder can also store pens and flash drives.
It is 542mm x 348mm in size when opened flat –closed it is 268mm by 348mm by 30mm.
The coloured folders are made to order on a 6-8 week lead time – please ask about minimum orders.
The nappa folder is despatched in a silver grey presentation box – an A4 unbranded note pad is fitted as standard, but we can install your own branded pens or notepads at time of manufacture,so that you do not need to unpack the folders when you receive your order.
Branding options are screen or digital printing, embossing, foil blocking and a resin dome badge as an other option.