Montana Designer Folder for Conference and Events
Montana Designer Folder for Conference and Events, a two tone colour cover with multiple options in folder layout, A4 or A5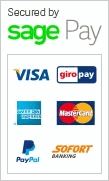 Montana Designer Folder for Conference and Events
The Montana Designer folder has a 2 colour cover with a short section at the bottom of the folder in one colour and the rest of the cover in an contrast colour, with a moulded stitching line between the two coloured panels. With so many colours to choose from, the cover can be designed to match or contrast you branding colours.
Dimensions: 267 x 213 x 45
Branding Area Dimensions: 120 x 90
It is available in A4 and A5 sizes, with many folder interiors to choose from, including:
With fitted calculator
With fitted calculator and ring binder
With ring binder
With ring binder and 2 x CD slots
There are many more options so just check out the pictures and see which one suits your requirements. We also supply pens if you would like to add one to this folder.