Leather A4 Conference Pad Holder
Leather A4 Conference Pad Holder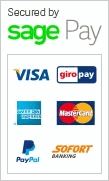 Leather A4 Conference Pad Holder
A Sandringham Leather A4 Conference Pad Holder which is available in 10 colours.
The folder is made from soft nappa leather, one of the higher grade leathers available, and the colour palette ranges from traditional navy or dark brown to pink and sky blue.
There is a fitted A4 ruled pad in the 272mm by 342mm by 30mm folder, the open dimensions are 545mm by 352mm.
It can be screen printed, embossed, foil blocked, as well as digitally printed or customised with a resin dome badge.
There are slots to hold cards such as SIM and memory cards, and loops to hold items like pens and memory sticks.
This deluxe A4 conference pad holder is a quality product and is ideal as a gift. We also supply quality diaries and notebooks.