Lanyards with Badge Holders for Exhibitors
Red lanyards, pre printed with the word Exhibitor in white, with 100 lanyards per pack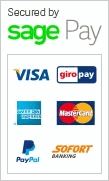 Lanyards with Badge Holders for Exhibitors
Many conferences also have an exhibition running concurrently - so the event managers may need to identify exhibitors from staff, delegates and other categories of visitors.
Stablecroft Conference Products can supply a stock lanyard in red which is already printed with the text Exhibitor - the text is white and the lanyard is a standard 1cm wide fabric by 90cm long, made from polyester. We can also supply this type of pre printed lanyard with other titles, such as Staff, Student etc.
Our minimums on this lanyard is only 100 units so do get in touch if you have a requirement to badge and identify your exhibitors, we can supply name badges and paper inserts for in house printing of names - just ask for your information.