Mirabeau Note Book With Clasp Closure
Mirabeau Note Book With Clasp Closure, 5 colour palette, with internal document pocket, ivory paper ruled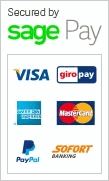 Mirabeau Note Book With Clasp Closure
The Mirabeau notebook has a five colour choice of pink, graphite, purple, china blue or red.
The notebook is available in two sizes of ruled cream/ivory paper , pocket size which has 192 pages or medium which has 240 pages. The pocket notebook has a dimension of 90x140mm while the medium notebook is 130x210mm.
The Mirabeau is not closed by an elastic closure band and instead has a clasp or tab closing strap.
The covers are very luxurious and have a soft touch, and are made with rounded corners.
Other extras include a document pocket inside the notebook, a loop to hold a pen and a page marker.
This notebook is suitable for blind embossing. Prices quoted are for plain unprinted items, we can confirm cost of branding separately. There is a minimum order quantity of 50 units.
We can also supply a wide range of conference folders with additional features if these are more suitable for your meeting or gift requirements.