A4 Brochure Holder 3 Tiers
A4 Brochure Holder 3 Tiers. Suitable for indoors only.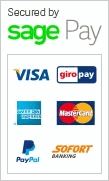 A4 Brochure Holder 3 Tiers
This is a three-tier literature holder which is made from 3mm thick injection moulded acrylic. Each of the three pockets is 32mm deep with good capacity. The acrylic has a UV protection added to prevent data from fading.
It is 339mm high by 240mm wide and 155mm deep. The acrylic pockets are 230mm wide.
The transparent leaflet holder is ideal for desk or counter top use, and holds A4 data in portrait format only. It is easy to stock and move around and the acrylic is 3mm thick and very durable.
We have other units which are double or four-time in styrene, cardboard or wood. Whatever you need to display in the office or at meetings and events, we have a solution for you.