Poster Holder And Leaflet Dispenser Portrait A4
Poster Holder And Leaflet Dispenser Portrait A4, 2 sizes of leaflet holders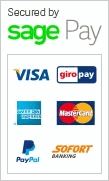 Poster Holder And Leaflet Dispenser Portrait A4
This is a single sided A4 poster holder which has an integrated leaflet holder in a choice of sizes.
The poster holder is made from 2mm or 3mm thick acrylic which is polished for a brilliant finish.
Single sided only, the A4 portrait poster holder is supplied with either an A5 leaflet holder (15.6cm wide by 7.1cm high by 2.4cm deep), or a holder which can accept either 1/3 A4 or A6 leaflets or brochures. This holder is 10.7cm wide by 10.2cm tall and 2.5cm deep.
With the leaflet dispensers, it is ideal as a counter top display for leisure industries such as hotels spas and gyms, as well as banks, estate agents, dentists wherever you wish to display information for customers or visitors to take away