4 Tier A4 Brochure Stand
4 Tier A4 Brochure Stand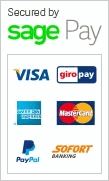 4 Tier A4 Brochure Stand
This is a tall brochure holder with a curved frame and 4 tiers of brochure holders, two A4 holders per tier, side by side. The acrylic holders or shelves have a safety lip of 45mm to hold data in place. The shelves are also slanted for visibility and security.
The unit is 1720mm tall, 545mm wide and 450mm deep. It has a useful header board which is 447mm by 150mm and can hold company name and logo or other information as required.
The base is large and stable and the frame has a curved design for additional style and interest. The mix of silver metal and acrylic is very attractive and perfect in a sleek modern environment in offices, foyers, hotels and other locations.