Angled Brochure Holder
Angled Brochure Holder, aluminium frame, three frosted acrylic brochure holders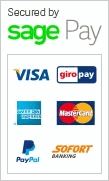 Angled Brochure Holder
This is a three-tier angled information display unit, ideal for holding brochures and other information.
It has a lightweight but sturdy chrome frame and stand 129cm tall, 26.5cm wide and 35cm deep. The three sloping shelves are made from frosted acrylic and hold A4 portrait documents only.
The sloping angled display unit is ideal for a multitude of point of sale needs, from showing A4 brochures, catalogues, or magazines in newsagents, dentists, surgeries etc. Can be used in estate and travel agents to their holiday brochure or houses for sale information. The units are also ideal for foyers in offices, meeting places, tourism outlets, wherever you want to display information to be picked up and taken home. Display the stand by your entrance, waiting area or till to encourage people to pick up a brochure and browse at their leisure.