DL Leaflet Stand 18 Pocket
DL Leaflet Stand 18 Pocket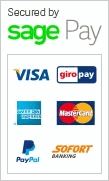 DL Leaflet Stand 18 Pocket
This is a very stylish multi pocket stand for leaflets, brochures, annual reports, publications any A4 or DL size material. It is a tall unit at 1594mm high, 806mm wide and 508mm deep.
There are nine acrylic pockets which have a decorative wave effect which make it even more attractive in situ. These clear acrylic pockets and either be used for 9 A4 items or split into 18 DL leaflet holders as dividers are provided with the stand to change the size of the pockets.
The metal frame is brushed aluminium and it has a large sturdy base for stability when in use. A very versatile unit for offices, venues, hotels, any situation where you wish to display up to 18 items.