Freestanding A3 or A2 Poster Display Lightbox
Freestanding A3 or A2 Poster Display Lightbox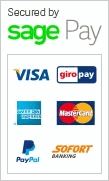 Freestanding A3 or A2 Poster Display Lightbox
Available in A2 and A3, this is a large lightbox which is free standing and perfect to show off your marketing material. Using an incorporated lightbox instead of a simple poster enhances the image and attracts attention. It is perfect for use in restaurants, retail, at trade shows or conferences or in reception areas.
The freestanding display frame holds graphics in place magnetically between recessed so it is easy to change over graphics when required and the lightbox can also be collapsed down for straightforward transportation and storage, making it an ideal stand accessory at exhibitions, trade shows and conferences.
You can also add optional brochure holders which sit under the lightbox and allow visitors to take away menus, literature, maps, whatever you are publicising to your audience.
The A2 and A3 units are the following sizes:
Height 1650mm
Depth 350mm
Width 540mm