Large Poster Totem Display
Large Poster Totem Display, one size, double sided, silver only, 174.2cm high by 69.4cm wide, supplied fully assembled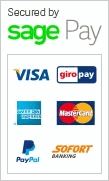 Large Poster Totem Display
This is a large poster totem which is supplied full assembled and ready to use. The large display unit is 174.2cm high and 69.cm wide and it houses a snap frame which is double sided.
It has an aluminium frame finished in silver and is suitable for indoor use only. To change over posters, the front or back snaps open to enable access to the contents.
It has a heavy steel base plate to enable its use in heavy traffic areas such as department stores, shopping centre, exhibitions, tourism venues etc. Anywhere you need a large display unit to show a vertical poster and make an impact.
The display space is the equivalent to two A1 size posters placed vertically.