Desktop Tablet Stands 9 Inch to 10.1 Inch
Desktop Tablet Stands 9" - 10.1", circular base, 30cm tall, rectangular, portrait orientation only, lockable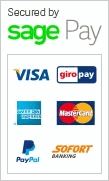 Desktop Tablet Stands 9" - 10.1"
This desktop Tablet stand has a sturdy circular base and pole, which are powder coated in black, white or as a stainless steel finish. The stand is lockable for extra security and also to prevent unauthorised access to the Tablet. At 30cm tall, the Tablet holder is rectangular and can only be used in portrait orientation. The stand has been fully tested to ensure that your tablet is held securely and fully compatible with Apple iPad 1 2 3 4 Air, Asus, Dell, HP, Lenovo, Point of View,Prestigio, Samsung, Sony, Toshiba, and Yarvik. If you require a full listing of each model, just contact us.
We also have floor standing Tablet stands if you prefer this option for your meetings and events.