Salerno Pencil
Salerno Pencil. triangular wooden pen with coloured top, can be branded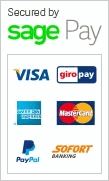 Salerno Pencil
Sometime a pencil is the preferred option to accompany a notebook or diary. If so, you will find the Salerno pencil a top quality item with a retro style.
The Salerno pencil is triangular in shape and comes in two sizes, small or large, both are the same price. The small pencil is supplied only with a black top.
The Salerno pencil has a coloured top in the following options:
Black

Blue

Dark Blue

Green

Orange

Red
Branding can also be added to the pencil to complete the look. The prices listed are for plain pencils only.
The pencils are a match to many of our diaries and notebooks, so if you want to complete the gift or promotional item, you can choose the Salerno pencil or one of our extensive range of pens.