Bic Intensity Gel Clic Promotional Pen
Bic Intensity Gel Clic, promotional pen, roller tip, with comfort grip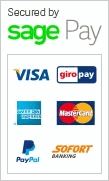 Bic Intensity Gel Clic Promotional Pen
The Bic Intensity Gel Clic is a promotional pen with a gel roller tip.
It has an automatic clip retracting mechanism, and the plastic barrel is available in five translucent colours, as well as two opaque colours i.e. black and white.
There is a choice of blue or black ink as standard.
Print can be applied to both the pen barrel and pen clip. The barrel print area allows up to 40mm by 16mm to be printed, while the pen clip can hold a printed message up to 26mm by 5mm.
250 units is the minimum order for this very popular pen.
We can add colourful note books, diaries and conference folders to make a complete set, just look at our product pages.