City Frost Push Button Pen
City Frost Push Button Pen, a frosted finish retractable plastic pen, 8 colours, can be printed on pen clip and on barrel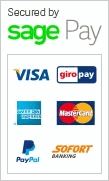 City Frost Push Button Pen
The City Frost pen is a retractable promotional plastic pen.
It has a curved clip and comes in eight frosted colours including yellow, orange, white etc
Its standard ink colour is black and it is available in minimum quantities of 250 only.
It has a good print size area and can be printed both on the clip and on the barrel.
Printing on the barrel is one colour only and the printing space is 45mm by 20mm, while the area suitable for printing on the curved clip is 25mm by 6mm maximum.
Stablecroft Conference Products can supply other pens in a frosted finish so just ask for more information if the City pen does not fully meet your requirements .