Senator Challenger Icy Promotional Pen
Senator Challenger Icy Promotional Pen is a plastic retractable ballpen which has a broad translucent coloured barrel and matching coloured curved clip, with excellent choice of colours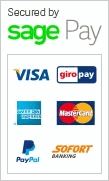 Senator Challenger Icy Promotional Pen
The Senator Challenger Icy is a quality promotional pen which is available in 16 translucent colours.
It is a plastic transparent retractable ball pen, which has a coloured curved clip and matching translucent coloured barrel.
It comes with blue ink as the standard format, and the minimum order quantity is 500 units.
There are flexible options in terms of branding as the barrel has a printable area of 45mm by 20mm and can be overprinted in up to four colours.
The curved coloured clip can also be branded but only in up to two colours, with a printable area of 35mm by 7mm.
Ideal as a give away for your conferences meetings and events, the Challenger Icy makes an excellent promotional gift.