Senator Dart Clear Retractable Promotional Pen
Senator Dart Clear Retractable Promotional Pen, with a translucent barrel and an opaque pen clip, 16 colour palette, 500 units minimum order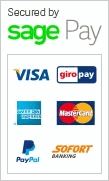 Senator Dart Clear Retractable Promotional Pen
The Senator Dart Clear Retractable Promotional Pen is one of our series of translucent pens – this one has a translucent barrel but an opaque clip.
There are sixteen colours to choose from offering great flexibility when it comes to matching pens with corporate branding, coloured folders or note pad.
With a 500 units minimum order, the Senator Dart clear promotional pen is supplied with black ink only.
The pen can be branded by printing the clip, one colour only is advised, and the print area on the clip is either 30mm by 4mm or 25mm by 5mm.
The barrel of the pen can also be printed, with a slightly larger print area of 35mm by 20mm.
We can provide brightly coloured note pads and diaries to match the pens – see our section on these items.