Americano Thermal Medio Mug
Americano Thermal Medio Mug, brightly coloured silicon grip and lid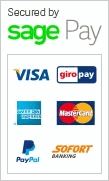 Americano Thermal Medio Mug
This colourful thermal mug is dishwasher proof, top shelf only, with a capacity of 300ml. The diameter is 80mm and it is 124mm tall.
The mug is white with a full colour wrap, while the grip and lid have a choice of 11 colours, and grip only has a choice of white or yellow.
The full colour wrapper makes it a very colourful thermal mug as the wrapper can be contrasted with strong colours such as lime, orange, purple, making it stand out from the crowd.
Get away from throw away mugs and provide one which can be used again and again all the time promoting your brand and message. Perfect as a gift item for meetings conferences and events.