Perforated Paper for A6 Badges White
Perforated Paper for A6 Badges supplied on A4 sheets, each badge insert is 105mm wide by 148mm high, 4 per page. 50 sheets per pack, ready to print, enough for 200 delegates.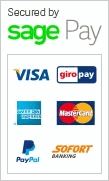 Perforated Paper for A6 Badges
Stablecroft Conference Products are manufacturers of perforated paper for badges in a range of sizes, from credit card size to A5.
The A6 perforated paper is on A4 sheets, 4 badge inserts per page, with a 105mm wide and 148mm badge size. Each pack will provide paper inserts for 200 delegate name badges. The badge paper is made from 120grm paper which can be used in either a laser or inkjet printer. The paper weight also makes it easy to detached the perforated paper edges.
Available in white only as a stock item. But can be made in colours as a special order. Lead time is only 2 weeks.
Stablecroft can supply name badges in A6 portrait to use with these badges. They can be used with a single or double ended lanyard.