Natural Cotton Long Handled Bag
Natural Cotton Long Handled Bag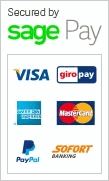 Natural Cotton Long Handled Bag
This is a coloured cotton bag which is 420mm wide by 375mm tall with two long shoulder handles, ideal for conference and events.
It is available in a natural only and the price quoted includes a full colour print on one side of the bag. There is a minimum order of 25 units.
We can also provide a similar bag in a wide range of colours if preferred.
This bag does not have a gusset, but we can provide other styles and weights of cotton if you require a heavier weight of cotton or greater capacity.
Just check our website for information on other types of promotional bags, such as conference and laptop or backpack styles which are ideal for meetings and events or general promotions.