Badge Holder 810042 card size 90x55mm for use with lanyards
Stablecroft Conference Products 810042 flexible pvc badge holder is suitable for use with single or double ended lanyards, and takes a paper insert sized at 90x58mm. Boxed in 100s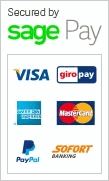 Badge holder 810042 card size 90x55mm
The 810042 badge holder is the smallest badge holder that Stablecroft Conference Products supply for use with lanyards, as the delegate names pocket is 90x55mm. The paper inserts which accompany this badge are supplied 10 per page on A4 perforated sheets.
You can choose from white, or pink, poppy, lime green, mint green, pale blue, mid blue, apricot, orange, citrus, daffodil, grey or lavender - if these shades do not suit, we can custom manufacture a different colour for you.
This badge holder will fit our trays for transporting badge holders to conferences, meetings and events - both of our trays, which are manufactured in either powder coated aluminium, or cardboard, can be used with this badge.
A single clip lanyard can be used - we supply these unprinted in a range of colours - or a double ended lanyard and also be used, as the header tab has a central slot and a round hole at each top corner of the badge holder. We can supply these on a fast turnaround if you are up against a deadline.