A5 Zipped Conference Folder In Coloured Leather
A5 Zipped Conference Folder In Coloured Leather, 10 colours to choose from, flash stick and pen loop, slots to home SIM and Memory Cards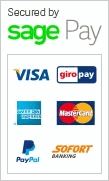 A5 Zipped Conference Folder In Coloured Leather
A5 Zipped Conference Folder Coloured Leather, made from top end Nappa leather, which is available in 10 colours.
Open dimensions of this zipped folder are 382mm by 252mm, when closed it is 190mm by 252mm by 30mm.
The A5 zipped folder has a fitted A5 ruled pad with a pen loop and loop for a flash stick holder, as well as slots of SIM and Memory cards.
There is a business card pocket, and space to hold a CD and a flap for extra storage.
The Nappa leather is available in the following 10 colours:
· Burgundy
· Dark Brown
· Dark Green
· Green
· Mid Blue
· Navy
· Pink
· Red
· Sky Blue
· Tan
Suitable for screen or digital printing, embossing, foil blocking or with a resin dome badge, this quality A5 Zipped folder is an ideal gift or promotional item.