Plain Lanyard With Plastic J-clip And Safety Breakaway
Stock lanyards with plastic J-Clip, with adjustable safety breakaway, wide range of colours available, packed in 100s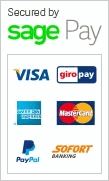 Plain Lanyard With Plastic J-clip And Safety Breakaway
A stock lanyard from Stablecroft Conference Products featuring plastic J-clip and safety breakaway - the position of the safety breakaway can be adjusted and does not need to be at the back of the neck, making it more comfortable to wear.
Made from polyester fabric, the lanyard fabric is 1cm wide and 90cm long, which makes it sit comfortably for the attached badge to be easily visible. The polyester fabric is tough and durable, so not only is this lanyard suitable for conferences, meetings and events where it may be used for only a few days, it will stand up to daily wear in the work place.
The breakaway mechanism comes apart easily and has been redesigned to provide additional comfort to the wearer as there is no stitching to irritate and the new style has a curve which makes it sit more comfortably.
The extensive range of colours makes it easy to match your corporate colours or conference theme.
The lanyard can be used with all our badges which require lanyards, and can also be used with slotted plastic cards.
Next day delivery is available if orders are received by 1100.