Woven Edge Conference Ribbons
Woven Edge Conference Ribbons, with a straight edge not serrated, available in 20 colours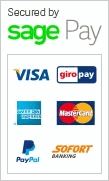 Woven Edge Conference Ribbons
Woven Edge Conference Ribbons offer a wider colour palette than our standard serrated edge ribbons which have a core colour range of 12.
There are 20 colours to choose from and the ribbons have a straight edge, not pinked or serrated, and the ribbon fabric is thinner and more shiny. The only disadvantage is that the straight edge of the ribbon is more likely to catch and fray, whereas the serrated edge ribbons are heavier duty and can be re-used multiple times.
The woven edge ribbons are ideal for one off use, and if you need lots of colours to identify your different visitors , guests, delegates etc. The ribbon fabric is slightly less durable than our standard ribbon fabrics but this one offers a wide range of colours.