Rotating Brochure Holder
Rotating Brochure Holder, six display pockets. Suitable for indoors only.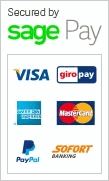 Rotating Brochure Holder
This is a counter top A4 size rotating brochure holder which is ideal to display several items in one unit which takes up very little space. It is tiered and customers or visitors can rotate it and view and access the six pockets, two on each of the three sides of the unit.
Dividers can be provided to change the layout from six A4 pockets to twelve 1/3 A4 sections so you can vary what is displayed according to each venue or event.
It is made from clear polystyrene and the overall size is 360mm wide by 320mm high and 340mm deep, with an internal display pocket of 230mm wide by 32mm deep.
The rotating carousel unit can hold brochures, magazines, leaflets, cards, whatever you need to display and is ideal if you have multiple product brochures to showcase.