A3 Landscape Poster Display
A3 Landscape Poster Display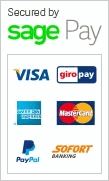 A3 Landscape Poster Display
This is a sleek contemporary styled A3 landscape poster display stand which makes a great first impression. Ideal for car showrooms, estate agents, galleries, hotel foyers and office reception areas as well as meetings and events.
Made from acrylic and chrome, the silver frame floats the poster image to create an eye catching display. The magnetic display box is easy to change over when required and brochure holders in A4 A5 or 1/3 A4 can be added to the unit.
The poster display unit is 1650mm tall, 540mm wide and 350mm deep.
This is a top quality unit which will last for years. It folds flat when not in use and can be taken down easily, which makes it perfect for temporary as well as permanent exhibition spaces.