A4 Brochure Carousel 18 Pockets
A4 Brochure Carousel 18 Pockets in acrylic, 3 tiers, each tier rotates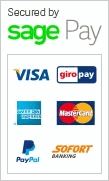 A4 Brochure Carousel 18 Pockets
This is a rotating carousel style brochure of leaflet holder is 1420-1500mm high. It has a four spoke base for extra stability and is 600mm in diameter. Each of the 18 pockets are made from clear acrylic and can hold date up to A4 in size.
The silver frame is made from high quality metal and is very durable. The three tiers can rotate one at a time for extremely easy access and they can be positioned on the central pole at a height of your choice, making the unit very flexible in use. The unit rotates 360 degrees and information is extremely easy to load or remove.
Supplied flat pack, it can be easily assembled and taken down and stored when not in use.