Collapsible Zig Zag Brochure Holder
Collapsible Zig Zag Brochure Holder, six A4 shelves, with carry case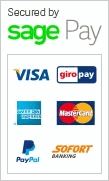 Collapsible Zig Zag Brochure Holder
This is a leaflet or catalogue display unit which folds down when not in use in a zig zag manner. It is supplied with a carry case to make it perfect to travel to and from events or venues.
When in use, it is 154cm tall and has three shelves on each side of the unit. Each shelf can hold data in A4 portrait format only.
It is supplied fully assembled and pops up ready to use, then concertinas down to go back in the case. Very simple to use when you need an pop up display unit at a conference meeting or other event.
When not in use, it takes up very little space in its case which is also useful if travelling to an event with lots of luggage and brochures.