Leaflet Holder A4 or A5 with Acrylic Pockets
Leaflet Holder A4 or A5 with Acrylic Pockets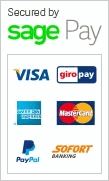 Leaflet Holder A4 or A5 with Acrylic Pockets
This is a floor standing brochure holder which is supplied with either eight A4 literature holders or eight A5 leaflet holders, which can be displayed four on each side of the central pole.
The four channel pole is very strong, available in silver finish only, with an end cap and heavy weighted base. The acrylic pockets can be adjusted on the pole to suit your display requirements.
The holders are made from high impact polystyrene which are crystal clear, they can be set on the pole at an angle or in straight more upright position. This is a very versatile unit as you can choose from A4 or A5 and also add as many or as few of the holders for each event or location.