Magazine Zig Zag Brochure Display Unit
Magazine Zig Zag Brochure Display Unit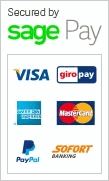 Magazine Zig Zag Brochure Display Unit
This is a stylish magazine or brochure display stand, which is designed in a zig zag style, with three shelves on each side of the frame. This enables a double sided brochure to be created. The stand is made from silver powder coated aluminium with clear acrylic shelves which are heavy duty.
The shelves are designed to hold brochures catalogues or magazines in A4 portrait format only. The display unit is supplied flat pack to be assembled and used as a permanent fixture rather than being dismantled and re-assembled. Collapsible portable units are available if required.
The display stand is 162cm high, by 30cm by 40cm. The shelves are angled for excellent visibility of the items displayed and is suitable for retail, travel and estate agents, hotels, offices and exhibition spaces. Just a few of the settings this stand can provide a solution to your information display needs.