Coloured Top Badges for Use with Lanyards (91mm x 61mm)
Flexible PVC clear delegate badges with a coloured top, in six colours, with a badge pocket 91mm x 61mm. Boxed in 100s.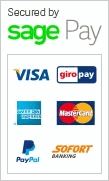 Clear Delegate Badges with Coloured Top (Box of 100)
Manufactured from strong PVC, these clear delegate badges are designed to be used with lanyards and incorporate a choice of coloured strip at the top making them ideal for matching a theme, brand or differentiating different types of delegates at meetings and conferences.
The pocket size is 91mm x 65mm enabling standard 90mm x 55mm Stablecroft Conference Products' stock inserts to be used. The badge paper inserts are supplied on A4 perforated sheets which can be used in laser and ink jet printers.
The clear delegate badges with coloured strips are available in Black, Dark Blue, Green, Red, Royal Blue, Yellow and White.
If you need lanyards to complete your badge pack, we can supply unprinted or custom printed lanyards with a fast turn around time.