Eco Friendly Lanyards
Eco Friendly Lanyards in 1cm, 1.5cm and 2cm widths, made from PET (recycled plastic bottles) or bamboo or other plant fibres. Can be screen printed or printed by dye sublimation.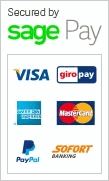 Eco Friendly Lanyards
Stablecroft can provide lanyards in eco friendly fabrics should your clients require this as part of their conference ethos. The eco friendly lanyard can be made from recycled PET (which is made from recycled plastic bottles). Alternative products are made from sustainable plant fibres, such a bamboo. Some have a textured finish while others are smoother and silkier.
Fabric widths on recycled PET lanyards are 1cm, 1.5cm and 2cm, and the same widths are available in deluxe plant silk and bamboo deluxe options.
The choice of clips is metal j clips, also known as dog clips, but if lanyards are being made to order than trigger clips or crocodile clips in metal or plastic can also be used.
The eco friendly lanyards made from plant silks are screen printed, while the recycled PET ones are printed by the use of dye sublimation.