Lanyard and badges for Students
Lanyard and badges for Students - the lanyard is overprinted with the word STUDENT and has a plastic J clip to attach to the students' identity badge, packs of 100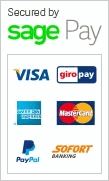 Lanyard and badges for Students
This lanyard can be purchased in packs of 100, and a choice of two colours - Black or Purple.
The 1cm x 90cm lanyard is pre-printed in white lettering with the word Student and has a safety breakaway and a plastic J clip.
While it can be used at universities and schools, it is equally useful for conferences, seminars and events which students attend and where the event management needs to be able to identify which delegates are students.
If you have a large number of lanyards to organise and distribute you may find that Stablecroft's lanyard stands make this task a lot easier! The lanyards stands come in a number of styles, either desk top or floor standing.
.