Custom Badge Ribbons - Horizontal
Custom badge ribbons made to order, horizontal layout, with double sided tape to adhere to conference name badges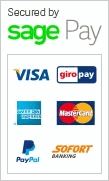 Custom Badge Ribbons - Horizontal
Stablecroft's custom badge ribbons are a very popular addition to our range of products for conferences, meetings and events.
The custom badge ribbons can be supplied in either a horizontal or vertical orientation.
The most popular sizes for horizontal ribbons are 90mm, 95mm, 100mm or 120mm wide but we can product custom badge ribbons to match the width of your conference of ID badge.
The double sided tape can be placed either on the front or rear of the ribbon, depending on how you want to attach it to the name tag.
Our standard colours are:
Black, Blue, Gold, Green, Grey/Silver, Lilac, Orange, Pink, Red, Yellow, White
But we can make other colours to suit your requirments.
Text colours for our custom badge ribbons are usually