A1 Freestanding Single Sided Poster Display
A1 Freestanding Single Sided Poster Display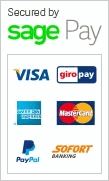 A1 Freestanding Single Sided Poster Display
This is an A1 poster display unit which is 1800mm high and weighs 15kg. The poster frame is 814mm tall by 549mm wide and has a snap shut fixture which makes it easy to load and unload. The poster frame has rounded corners to avoid sharp edges.
The poster frame is adjustable and can be positioned at any height on the central 1800mm pole, which is heavy duty. The base is square, 380mm by 380mm, and is very stable while in use.
It has a high quality anodised finish and is made from aluminium, with chromed end caps. Brochure holders can also be added if required. We have other options in A1 sizes so do look at our listings for additional products if this one does not suit.