A-Z Plastic Alphabet Cards
A-Z Plastic Alphabet Cards, to add to our metal or cardboard badge trays, makes it easy to find your delegate names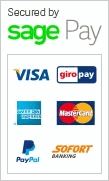 A-Z Plastic Alphabet Cards
Stablecroft can provide a set of A-Z Plastic Alphabet Cards which are ideal to use in either our cardboard badge trays or our metal name tag trays.
Each plastic card has a letter of the alphabet pre-printed so that when you are at your conference meeting or event, it is easy to find individual name badges when your badge trays are displayed, as you can see where each letter of the alphabet begins.
This is really useful when you have lots of badges to dispense and need to find each name badge quickly to avoid queues building up, as first impressions count.
Anything that can speed up registration is a bonus, so this low cost item can just keep your delegates or visitors moving through without delays.