Badge Holders and Lanyards for VIPs
Black lanyard over printed in white with the word VIP, packed in 100s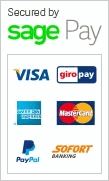 Badge Holders and Lanyards for VIPs
It is essential at busy conferences, meetings and events, that any temporary staff employed are able to identify very important people who are attending, so they can ensure that they receive excellent service and feel that their support is appreciated.
This black stock lanyard has the text VIP overprinted in white, so you can easily see who is who in all your conference rooms and your staff can react quickly if situations arise.
The lanyard is a standard size i.e. 1cm wide by 90cm long, and has safety features including a breakaway in the fabric, and an easy to use plastic clip.
An alterative product from Stablecroft Conference Products is our conference ribbons which equally well can help you distinguish who is who. Both offer a low cost way to identify your visitors and guests and categorise them if you need to.