Lanyard With Badge Holder - Overprinted with Visitor - Metal Clip
Visitor lanyard, with safety breakaway, red only, overprinted in white with the title Visitor, stock item, 100 per pack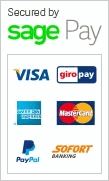 Lanyard With Badge Holder - Overprinted with Visitor
If your company has a large site and many visitors, this stock lanyard can be attached to your Visitor ID Badge to provide an even more visual guide to visitors on site.
Available in red with white overprinting, this safety lanyard has a breakaway and a metal lobster clip.
We can also supply a lanyard with a plastic j clip if this is preferred - with a green fabric and white print.
This is just one of the pre printed stock lanyards we can supply, others include Student Lanyards, Exhibitor Lanyards, Volunteer Lanyards, Governor Lanyards, Staff Lanyards, etc
We can also provide custom printed dye sublimation lanyards which have a flat material, or custom screen printed lanyards, which have a textured fabric.