Plain Lanyards for Conference Name Badges
Plain lanyards with lobster clip many colours to choose from, packed in 100s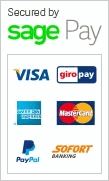 Plain Lanyards for Conference Name Badges
Stablecroft Conference Products can supply a range of plain lanyards for use with our name badges.
Our lobster clip lanyards feature a breakaway at the back of the neck - which many customers and industries require to comply with health and safety regulations. The metal lobster clip is durable and attached easily to the badge or slotted plastic card. This is essential if you are organising a major conference and have hundreds of lanyards to attach to name badges!
The lanyards are ideal for conferences, meetings and events, but also for companies where employees are required to wear identification at all times. They are also suitable for universities for students or staff alike.
There is a wide range of colours to choose from which makes this best selling product very flexible.
The lanyards are also very easy and quick to remove, so they can stored and re-used in future events.