A4 or A3 Floor Standing Frame
A4 or A3 Floor Standing Frame, finished in silver anodised aluminium, easy to assemble and change poster inserts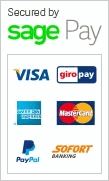 A4 or A3 Floor Standing Frame
An A4 or A3 Floor Standing Frame which can accommodate cards or posters in A4 or A3 in portrait or landscape format, offering very flexible options.
It is constructed from silver anodised aluminium, and has rounded corners on the poster frames and also the base.
It is 100cm tall, and is easy to assemble.
The poster frame has a snap shut front opening mechanism, which makes it very easy when you have to change the graphics and are in a rush!
The A4 floor standing frame is very simple with clean lines, ideal in a modern venue.
We have 5 other models in this range so there are plenty to choose from if this one isn't quite what you require.